Last year we traded a big, white center for a dynamic, undersized, hyper-athletic shooting guard.
Yeah, we did that. The Milwaukee Bucks!
So we have been without any 7-foot white guys for months now. We could try and convince you we are taking a pass-first guard or a shooter in case our free agents decide to leave, but who would we be kidding? We need a young, defensive-minded, big center and a white guy (
Paul Mokeski isn't walking through that door!)
and here we have the total package.
The Bucks select Meyers Leonard, and America high fives each other for guessing at least one lottery pick correctly.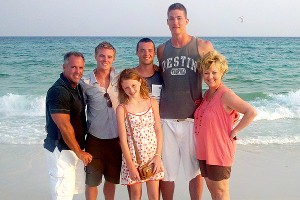 Leonard adopted an additional family of white people in preparation for his future life in Wisconsin.